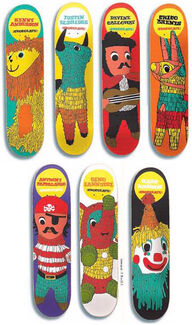 The official name is not known for this board, but on the under-part, there is a picture of a Pinata and the word "!Chocolate!" above it. There are six of the Pinata boards, one with a character resembling a devil. Above the Devil's head is the name "Chris Roberts". Another one is the Guitar Playing man design. The man looks like a matador with a guitar. Above the Matador's head is the name "Devine Calloway". Another one is a Lion Pinata. Above the Lion's head is the name "Kenny Anderson". The goat one has "Justin Eldridae" above it. The donkey has "Chico Brenes" name above it. The pirate has "Anthony Pappalakdo" above it's head. The elephant has "Gino Lannubua" above it's head.
The name above the clown's head is unknown at the time.
Ad blocker interference detected!
Wikia is a free-to-use site that makes money from advertising. We have a modified experience for viewers using ad blockers

Wikia is not accessible if you've made further modifications. Remove the custom ad blocker rule(s) and the page will load as expected.