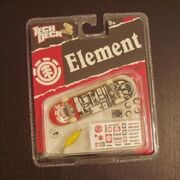 Element is one of the many Tech Deck avaliable. It is the most valuable. It is lighter than most boards, so it is easy to use it. Element is named after the four elements of earth- fire, water, earth and air. Element Tech Decks are rare being a popular skateboard brand.Element is a real skating company.
Ad blocker interference detected!
Wikia is a free-to-use site that makes money from advertising. We have a modified experience for viewers using ad blockers

Wikia is not accessible if you've made further modifications. Remove the custom ad blocker rule(s) and the page will load as expected.